We're proud to announce that our very own Carol Beaugard, host of Lonesome Pine RFD, has been chosen by the International Bluegrass Music Association (IBMA) to participate in the 2010 class of Leadership Bluegrass.
Leadership Bluegrass, now in its eleventh year with more than 225 alumni, is an intensive three-day program of advanced level, interactive learning experiences that invites participants to examine the challenges and opportunities facing bluegrass and the overall music industry along with related leadership issues.
Carol shared her experience from Nashville all week long for Bluegrass Country.org.
Tuesday, 16 March 2010

Hi Friends. Our last day of Leadership Bluegrass 2010 was on 3/11 and I just wanted to share some finishing thoughts on the program now that I've flown home and have had a few days to process the experience.
Photo: Carol with Jess Norburg of IBMA
The last day was filled with incredible information and deep bonding. We all met for a breakfast buffet at the IBMA offices. We chatted over waffles, fruit and coffee and had fun seeing Nancy Cardwell and Dan Hayes' office. They've got some great pictures and posters of IBMA World of Business Conferences and artist photos throughout the offices. It was really nice to see where our trade organization generates all their hard work and 'magic'.
Then it was back to the BMI building for more great work. Tim McFadden and Paul Lohr led a session on The Artist's Team and explained the difference between agents and managers, including detailed information on each role. These guys are great players and their insights and stories were fascinating.
Our classmate, Kissy Black (of Lotos Nile) was next along with Ryan Baker of Sugar Hill Records and Craig Havighurst of String Theory Media. They shared a case study of Sam Bush TV (a weekly webcast created to help promote Sam's album 'Circles Around Me') and showed how important it is to promote oneself on the web through video streaming and how one can track the audience to show value to potential sponsors and promoters. The information and results they shared were impressive and incredibly revealing. It was another high point of the conference.
The day's open forum brought up the panelists and attendees who were aged 35 years and younger and we all got into a great discussion centered around what the younger generation finds entertaining and again it was noteworthy to see what trends they liked to follow, who they thought was cool and exciting, who they thought wasn't and how they gather information.
Probably the most moving part of that final day was our Graduation Luncheon. We were each given a box that contained Graduation Plaques for a different member of the class and we had to each stand and say something about that person. It was really meaningful and gave each of us another chance to talk about how close we had grown to each other and how much we admired each other's achievements. The exchanges were at times emotional, sometimes funny and overall were really touching (2010 Graduates pictured right: Gretchen Priest-May , Jean Spivey , Denis Chadbourn , Karl Cooler  Carol Beaugard, Jennifer Larson , Kissy Black , Avery Ellisman , Donna Ulisse, Jessica Smith, Gary Reid, Tom Brown , Thad Keim , Joan Kornblith , Linda Bonner , Michael Ramsey , Andrew Stokes , Jess Norburg, Patty Mitchell , Chris Keenan , Phil Bankester , Megan Brugger, William Lewis , Doris Gray , Lachlan Davidson. For a larger version of this photo, click here).
The day ended with more discussion on the challenge of leadership and what we can do to better serve bluegrass at large and for our own careers. When the day ended no one wanted to leave. We truly had formed such deep bonds and we were scurrying around hugging each other and exchanging numbers and emails. Since the conference has ended, we've all exchanged group emails and the conversations have continued. There's a commitment among all alumni that go through Leadership Bluegrass that we always take each other's phone calls and respond to each other's emails. That's easy to do – I think that everyone that goes through the class shares the realization that we've experienced an educational opportunity that is so intense and so uniquely special – we're bonded forever. For me it's not an exaggeration to say that it's a life-changing experience.
Thanks so much to the IBMA for creating Leadership Bluegrass and thanks to Nancy Cardwell, Dan Hayes, Jill Crabtree and Jess Norburg of the IBMA for conducting the program. Tremendous thanks to Fred Bartenstein who is maybe the greatest facilitator of all time (pictured left). He was amazing and kept us all on track, focused and on point. He's a Superstar! Thanks too to the Leadership Bluegrass Planning Committee: Brian Smith, Stephanie Taylor, Holly Tashian, Trisha Tubbs, Ron Cox, Craig Havighurst, as well as Robert Trapp. Thanks to the 2009 Selection Committee: Holly Tashian, Stephanie Taylor, Yvonne Tatar and Gerry Katz and thanks to our hosts – BMI: Jody Williams, Clay Bradley, Mark Mason, David Preston, Bradley Collins and Nancy Moore.
I'll end by encouraging everyone and anyone working in any facet of bluegrass music to apply and attend Leadership Bluegrass. If you've applied in years past but weren't selected – apply again and don't be disheartened. IBMA can only accept 25 applicants each year and you should try to attend. You will learn so much and you'll come away with friendships that you'll treasure forever. After everything I've blogged, it's hard to describe what the program is really all about. You have to experience it and even then you'll receive so much information that it will take time for everything to settle and process. It's the gift of a lifetime and the greatest wish I can share with each of you is the hope that you can be part of a future class someday.
One thing's for sure – and this I'm certain we can all understand and relate to – we all share such a deep and abiding love for bluegrass. It shapes us, it motivates us, it inspires us and it guides us to do all we can to preserve and better the music. I love being a part of this music and a part of this community. It's "Our Town".
– Carol
Wednesday, 10 March 2010

Today's sessions were amazing.  My mind is reeling from all the information and the amazing topics, speakers and presentations we experienced.  It was incredibly intensive and deep.  It was the kind of educational experience that will stay with me for a lifetime.  I feel like I've been given the keys to the city and I"m now armed with concrete skills to improve every aspect of what I do in bluegrass.
Photo: Carol with Suzanne and Doyle Lawson
Highlights included a presentation on Getting Music to Consumers: Broadcasting – From the Present to the Future which was led by Ronnie Reno and Todd Mayo, founder of Music City Roots.  Todd's work with this radio show and live concerts is so innovative – many of us felt like we were introduced to the future.  The work he's doing, what he's created and his vision (which is evolving every day) is remarkable and reminds me of what it must have been like when people were first experiencing the launch of the Grand Ole' Opry or the first recordings captured during the Bristol sessions.  It was truly inspiring.
Another informative presentation was on education and key speakers included Nancy Cardwell of the IBMA and Rob Ickes.  Rob concluded the presentation by performing 'The Old Rugged Cross' (photo below).
A great high point of the day was a talk given by Doyle Lawson.  He gave 'An Artist's Perspective' on leadership and spoke about his long and illustrious career.  He shared memories of his early years with Jimmy Martin, JD Crowe, and The Country Gentlemen.  He discussed making the decision to break from the Gentlemen to form his own band and his years leading Quicksilver.  Doyle's lovely wife Suzanne and her sister, Mary Jane Johnson also joined Doyle.  Suzanne and Mary Jane have helped manage Doyle's career for more than 20 years and they also shared their experiences in the business.  We were all deeply impressed and honored to have such a great figure in the music share his personal recollections and leadership practices with us.
Leadership Bluegrass is conducted in the BMI offices and BMI hosted a wonderful dinner reception for us.  It was really elegant.  By now many of us have formed the beginnings of good friendships and future business associations.  The work over the last couple of days has been really interactive and very passionate.  That type of intensity creates a special kind of bonding so the dinner was filled with warmth and camaraderie.  David Crow gave a toast and speech and summed up the need to remain committed to leadership and underscored the connection we all share through our love of the music.
Well, the night was over by 9 pm and while many of the class went home to rest for our 8 am breakfast on Thurs. morning – I scooped up several classmates and out we went back to The Station Inn – this time to see David Peterson and 1946.  It was another great night of music!!  David was playing with his country band 1946, which included Bryan Sutton (guitar), Shad Cobb (fiddle) and Dennis Crouch (bass).  Guess who was sitting next to me?  Lee Ann Womack.  Other stars that were on hand to see the show were Mike Bub and Richard Bailey.  We were all howling with joy at the greatcountry classics.  What a great night!!
Pictured above: David Peterson and 1946 live at the Station Inn in Nashville, TN
Photos: Left, Holly Tashian and Carol; R, Carol and Lee Ann Womack
Photos: Left, David Peterson and 1946; R, Bryan Smith and Donna Ulisse
Tomorrow is the last day of Leadership Bluegrass.  It's 3 am and I'm off to bed but can't wait to report on the conclusion of this incredible journey.
– Carol
Tuesday, 09 March 2010
We had our first day of Leadership Bluegrass and it was fantastic.  I only have 20 minutes to freshen up before we head out to the home of Dan Hays (pictured below) and his wife for dinner and some jamming, so I'll have to make this short.
Fred Bartenstein is our moderator and he's fantastic.  He led us through the introduction for the program and the different presentations of the day with knowledge, clear guidance and great skill.  We're in fantastic hands.
IBMA executive director, Dan Hays, opened the day early with an overview of bluegrass and where we stand within the industry.
One of the most interesting break out sessions broke the room up into teams and we each had to analyze certain time periods over the course of bluegrass history (1927-1948, 1948 – 1969, etc.)  As teams we had to sight important occurences in bluegrass, as well as look at what was happening historically during those time periods, how was music being distributed, what was travel like, etc.  It was fascinating and it tested our knowledge of music and American history and gave us a truly enjoyable appreciation of the progression of the music, development and emergence of the artists and increased respect for how the music has grown.
Another highlight of the day was a presentation by Dan Keen (of ASCAP) and David Crow, musician and lawyer on songwriting and publishing.  They made a very complicated and intricate subject hilariously enjoyable by enacting a role-playing scenario portraying a very 'green' artist putting a call into ASCAP or BMI to find out about licensing and publishing rights.  They had the room peeling with laughter and kept us all totally engaged while really getting a first class education on this critical topic.
I'm off to the party now.  Can't wait to hear some of these amazingly talented panelists and colleagues pick and sing and I'm looking forward to getting to talk about their backgrounds.  The diversity of backgrounds and the achievements that each program member has accomplished is so impressive.  It's fantastic!
– Carol
Tuesday, 09 March 2010

It's finally here, the first day of Leadership Bluegrass.  I'm really excited but I need a cup of coffee.
I was out late last night because I went to the Station Inn to see The Time Jumpers.  What an awesome band!  True blue hit you in the heart C&W/Western Swing music at its best.  They've been playing at the Station Inn every Monday for about 5 years and last night the show was sold out and it was standing room only.
I haven't seen Ranger Doug in a long time and it nice to reconnect.  He sounded great and did a yodeling number at the audience's howling request.  Paul Brewster was there but unfortunately he had just left when the band called for him to come up on stage.  A few other great guest artists sat in, including Tom Grant (former staff lead singer for years on "Nashville Now" (TNN) and "The Ralph Emery Show" (NBC).
Of course you never know who might be there just to see the show.  I ran into Sammy Shelor (pictured above).  He's a Leadership Bluegrass alum and he wished me luck on the conference.  He shared what a great experience it is and wished me good luck.
Off I go to get ready for our first session.  More later.
– Carol
Monday, 08 March 2010

Just got back from having coffee with Barbara Lamb. She gave me huge insight into the music biz and we toured music Row (where I'm staying).
I'm on the hunt for cowboy boots and Babs is a shoe horse too.  She took me to a favorite store and I didn't find cowboy boots but I did find a pair of really hot black stiletto heeled shoes covered with silver studs. Yea baby!
Tonight I'm off to the Station Inn to see The Time Jumpers do some great C&W/swing music. Ranger Doug will be on stage. Who knows what guest artists will show – 2 weeks ago it was Elvis Costello with Vince Gill quiety picking guitar in the mix (video below).
See ya later buckeroos.
– Carol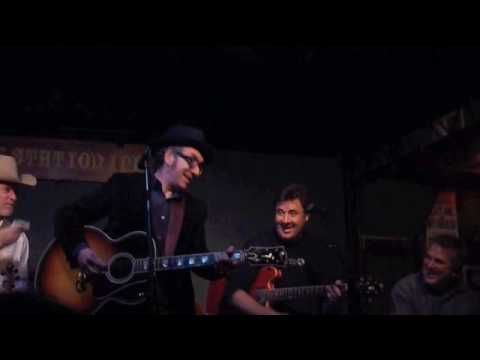 Monday, 08 March 2010
I just arrived in Nashville.  It's beautiful, sunny and warm!  66 degrees.  When I left home this morning (the Hudson Valley, NY) it was cool and we still had about a foot of snow on the ground.  The snow's melting but the deer are still having trouble walking through the snow and ice and the birds stay close to the feeders in the backyard.
I'm about to have lunch with Barbara Lamb.  The last time she did a show in NJ at Mo Fiddles/Menzel Violin Shop in Livingston, NJ we had time to have her in the studios for a live interview and I really enjoyed her show.  She appeared live as a solo artist and gave a great show and led an open jam.  She's a really fun lady with such a long history in the music.  I really admire her.
Leadership Bluegrass starts bright and early tomorrow morning at the BMI offices.  I'll keep you posted on all the happenings.
– Carol