WAMU's Bluegrass Country is broadcasting live from Nashville September 26-30. Click here for a complete schedule of our live programming. In addition to our broadcast, we'll also be blogging daily. Today's blogger is Bluegrass Country host Mary Sue Twohy.
Support for today's blog comes from Pickin' in the Panhandle.
Our first day of live broadcasting was a big success! Packed room! Great music! The day started with Dailey & Vincent – they sat down with Bob Webster for a wonderful interview to kick off the week's festivities. And Darrin Vincent's laugh! It's infectious!
He really does have the best laugh in bluegrass music. If you don't me believe me then check out this video courtesy of The Chapmans: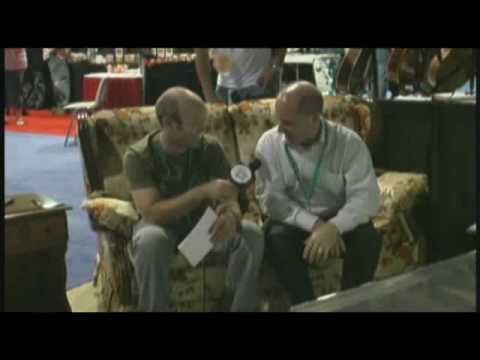 Next up we had The Roys, who charmed us with their stories and harmonies – they are sticking to their fiddle sound and are loud and proud about it. Mark Newton's Stillhouse Band followed them. Mark has a new band and a brand new sound – pretty amazing. Dobro player Leah was rocking bright red Dorothy shoes – and you know we are not in Kansas (photo below).
Mike Compton and David Grier were our fourth act of the day– what a pair and finger pickin' FAST (photo below)! I guess the word got out that we are broadcasting live and the room filled up to the brim at this point. Fun fact– David Grier starred in our FIRST YouTube Video – the first of many.
After David and Mike, we were joined by the sweet Western Mass sound of Acoustic Blue– melding the traditional country vocal with northeast bluegrass fineness. Mandolin player Corey Zink said he found out that he does not have ALL of George Jones recordings and has 6 more to add to his collection, so he bought one today at the Ernest Tubb Record Shop!
To close out today's broadcast, we took a left turn with 18 South and it went from performance to PARTY. There were so many people in the room we had to turn some folks away (photo below). So tomorrow – get here early and grab a seat —and hold on to it! What a great day – tune in tomorrow.