WAMU's Bluegrass Country's signal reaches around the world and now so do our eyes and ears. 2010 is the year of "special correspondents" — people who blog and cover events both far and wide on behalf of BluegrassCountry.org.
This time around, The Gibson Brothers are chronicling a portion of their spring tour for Bluegrass Country. Eric, Leigh, and the rest of the boys will provide our readers with video, photos, and a journal of their travels from California all the way to Europe, culminating in Germany where they'll perform at the Staatstheater in Oldenburg.
Listen to Katy Daley's recent phone interview with Eric regarding their Germany trip.
Wednesday, 21 April 2010

Our first trip as a band across the Atlantic got off to a shaky start. After a seven and a half hour flight from Newark to Munich, we got separated from Mike at security. We left without Barber for Bremen, pulling our hair out. What happened? Does he have any money on him in the event they try to charge him for the next flight out? We need to call him. Oh, that's right. He left his phone in the States. We should have known that Mike, being Mike, would be just fine. He was able to get on the next flight without a lot of hassle (They tried to make him pay, so he said, "If I'm paying, get me a ticket back to the United States." They let him slide!), drank coffee, made friends with total strangers, and got a massage while we stewed about him. Our friend Christine picked him up at the Bremen airport while we waited at the hotel. Mike took the whole thing in stride. We were frazzled and Mike was undeterred. "Hey, it was an adventure," was his explanation.
The promoters, Peter and Karine (pronounced Corina) Reimer, were wonderful. They welcomed us into their beautiful home the night before our concert at the Staatstheater in Oldenburg (photo above). We ate a delicious meal and socialized. Leigh even felt comfortable enough to attempt singing a song in German (video below). You may surmise where he found the courage.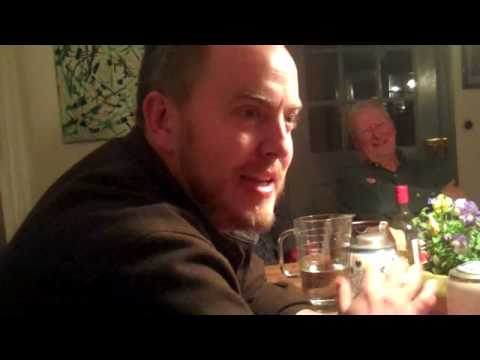 We listened to Waylon Jennings records and talked a lot about country music with Walter Fuchs, a renowned promoter and writer. My dad's cardiologist, Dr. John Baker, told us we would love the Reimers. He was right. Dr. Baker asked me last year when we were in the hospital with Dad after his heart attack if we'd be interested in playing in Germany. I told him I would love the chance and didn't think anymore of it until our agents called us a few weeks later with an offer. Dr. Baker and Peter have been friends for many years. Dad joked later, "Here I was dying in the hospital and you were doing business. I'm glad I could be of some help to you!"
On the day of the show, I was trying to ease into the day when Joe came running into the hotel. "Hey, I found a film crew at the coffee shop across the street. They want to interview you guys." The film crew was very friendly, and the host of the show kept apologizing for his English. All weekend long, Germans were trying to apologize to us. I kept telling them, "You're doing great! I understand everything you're saying. I don't know any German. I should be the one apologizing!" Leigh, Joe, and I were interviewed and were followed around for a few hours.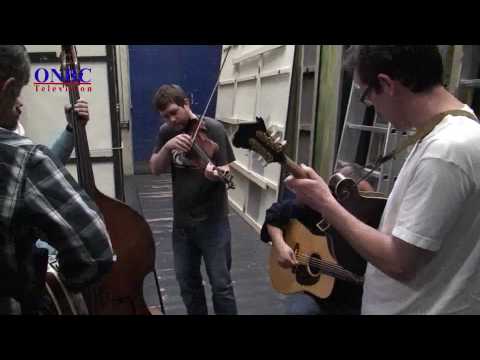 The Staatstheater was beautiful beyond words (Here's a photo of Eric's view from the stage). I've never played in a more visually appealing place. We felt so proud to bring our music to a foreign land in a full room and to receive such thunderous applause. I have never experienced longer applause between songs, especially the instrumentals. Clayton tore up "Old Joe Clark" like a man on a mission. I remember singing "Farm of Yesterday" and thinking, "My Dad will never see Germany, but maybe they're seeing a little of him tonight." They brought us out for three encores, and I left the stage feeling we had represented ourselves well. Not bad for a couple of farm boys from Ellenburg Depot.
Photo: The view from the 3rd floor balcony at the Staatstheater in Oldenburg. Click here for a higher quality photo.
After the show, we enjoyed our meet and greet. The people were as warm as could be. There was even a Plattsburgh, NY, contingent! Oldenburg and Plattsburgh have a student exchange program. I joked with some of the students about their teachers dragging them out to a bluegrass show. They looked at each other and laughed. I think many of them enjoyed themselves though.
Looking back, it feels odd that we basically spent a weekend in Germany. We spent almost as much time in the air as we did on the ground. We luckily got out just a few days before the volcanic eruptions in Iceland. We didn't get to do a lot of sightseeing, but I was there long enough to know that I want to go back.
Eric
Friday, 26 March 2010

Spring is here and we just returned from a whirlwind trip to California.  Our time was short, but very sweet.  Mike, Leigh, and I flew from Albany last Thursday on a 6 a.m. flight and landed in San Diego around noon.  No, our first gig was not in San Diego.  Leigh was able to book much more reasonable flights for the three of us there and an unreal deal on rental cars, so we decided to drive from San Diego to Morgan Hill, a beautiful town not far from San Jose.  So, after all that time in the air, we hopped on Highway 5 and stayed on it for about eight hours.  Clayton and Joe luckily flew into San Jose.  I'm not sure how they made out so well, but they're good guys, so I won't complain.  It made me sad to see all the beautiful soil I'd seen on my last trip in that area turned to dust and so many unhealthy or dying trees, but I'm no politician and not smart enough to figure these things out.  I just hope and pray California and the entire Southwest can get these water issues sorted out.
Joe, Mike, and I went on a hike in Uva Canyon Park bright and early on Friday with at least a little guilt.  I had called home, and Corina said it was snowing in Brainardsville.  Our healthy hike past waterfalls and beautiful Ponderosa pines in the California sunshine was good for the soul.  We got back to town in time for Mexican food at Jesus' before soundcheck.  Tim Edes, the promoter, seemed especially upbeat in anticipation of the show at the Grange Hall, a sell-out.  It just felt like it would be a good night, and I was certain it would be after hearing the opener, The Tuttles with AJ Lee.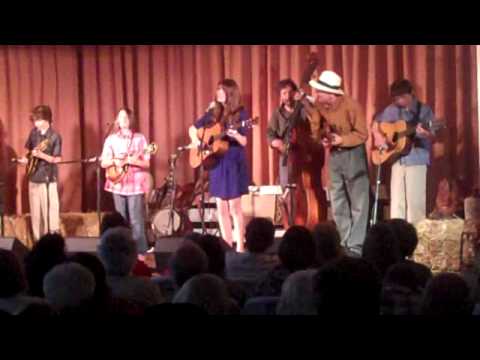 My goodness, what talent!  Molly Tuttle has such a unique voice and guitar style and is only seventeen.  Her brothers on mandolin and guitar, twelve and fourteen, repectively, were equally impressive.  AJ Lee is twelve and sings like she is two or three times that age.  She's too young to sound so seasoned and to phrase so well.  My sage advice to her?  Keep your hair just like it is.  It looks like Emmylou's circa 1977.  Giving hair advice made more sense to me than telling her anything about singing.  She knows what she's doing.  I believe we'll hear a lot more from these folks in the years to come.  They really riled up the crowd and it carried over into our show.  I've said so many times how easy it is to play when the crowd is into it.  We had such a great time that it was hard to get to sleep even though we knew that we had to take off for San Diego at 8 a.m. in the morning.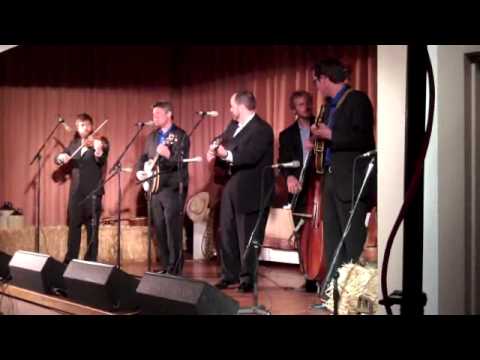 As we drove into the San Diego area, we couldn't resist breaking into Will Ferrell impressions, trying our best to sound like Ron Burgundy in "Anchorman." "San Diego…drink it in. It goes down smooth every time!" I can see why everybody wants to live there and why it's so expensive. We joked with one another that we were definitely the poorest people in Del Mar. The promoters, as was the case in Morgan Hill, really treated us well. The food was great and the accommodations were too good to be true. We got to stay on the beach in Del Mar, a stone's throw from T. Boone Pickens' compound. Joe Walsh said it best. "Do we really get to do this stuff?" Yep. The same guys that played a sidewalk sale in Malone, NY, in the 80's in 90 degree heat for doughnuts get to do this stuff.
Spirits were high as we played to a packed room, the Powerhouse. The audience again was extremely receptive and I've never had a show go by as fast as this one. Leigh started to announce our last song, and I felt a flash of anger. No, I'm having too much fun, I thought. I am not taking this group of guys for granted. I am blessed to share the stage with every one of them and hope these five guys can do this for a long, long time. I find myself thinking this on stage at times. No wonder I forget words occasionally! We finished our show, met a bunch of nice people, and headed 'home' for the evening. Betty Wheeler, one of the kind people who brought us to Del Mar, brought us delicious muffins and jam in the morning that she bought from a farm run by people who have been farming since they were released from a Japanese internment camp. Development is all around them, all kinds of money has been offered for the land, but they keep doing what they've always done. I love that.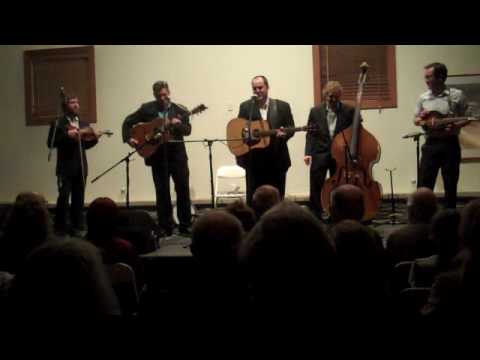 We dropped our cars at Enterprise on Monday morning and had an interesting trip to the airport. A man, wife, and their two little kids, probably three and four years old, rode with us in the shuttle. The kids were looking at our cases, and Joe and Clayton took out their instruments and played fiddle tunes for them. I've never seen faces with more happiness. They just could not get enough. The driver radioed in to headquarters, pushed a button, and said, "I have a bluegrass concert going on here." The joy Clayton and Joe brought to those kids should have been recorded, but my camera was packed away. I'll remember it though. I'll remember a lot about California, as I always do. I can't get enough of the West, and I hope to return often.
Eric